Introducción
Esta máquina está diseñada para pequeñas fábricas farmacéuticas, plantas de salud, plantas de alimentos y salas de preparación, se puede utilizar para envasar medicamentos sólidos como cápsulas, tabletas, perlas de gelatina, supositorios, tabletas de leche, dulces y hardware. Todo el conjunto es de diseño compacto, aspecto hermoso, funcionamiento suave y bajo nivel de ruido. Use el método de calentamiento interno para asegurarse de que el PVC se caliente uniformemente. No hay burbujas en el papel de aluminio mientras se calienta y, por lo tanto, no se producirán residuos..
Especificaciónes
| Modelo | ABM-I |
| --- | --- |
| Max. Área de calefacción | 120*130mm |
| Temperatura de calentamiento | 90-150℃ |
| Tiempo de calentamiento | 3-6sec |
| Presión del aire | 6-8bar |
| Aire salida | 0.12m³/min |
| Diametro de entrada aire | 10mm |
| Energía | 1000W |
| Voltaje | 110V 60Hz/220V 50Hz |
| Dimensiones | 320*250*360mm |
| Peso | 21kg |
Observaciones
Nuestra máquina viene con un conjunto de molde de ampolla libremente. Si necesita personalizar otro molde de ampolla, puede enviarnos su imagen de diseño.
Lea atentamente las instrucciones cuando configure la máquina por primera vez o cuando utilice la máquina por primera vez.
La máquina necesita trabajar con un compresor de aire.
Escriba su propia opinión
También Ofrece
Recommend
Recommend
Productos relacionados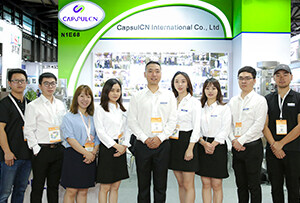 Our Team
As an expert in the pharmaceutical and pharmaceutical packaging industry, iPharMachine has provided solutions for hundreds of pharmaceutical and health product manufacturers for 17 years. By visiting customers, we get good reviews from our customers.
Productos vistos recientemente