Gummy Production
Gummy supplements and medications have gained popularity in the pharmaceutical industry due to their convenience and pleasant taste. Gummy production machines are essential for efficiently manufacturing these chewable products. iPharMachine is a leading provider of high-quality gummy production machines for the pharmaceutical industry. With a diverse range of machines designed to meet various production needs, iPharMachine is the go-to source for pharmaceutical manufacturers.
El equipo para fabricar caramelos de gelatina comprende una sección de cocción, una sección de depósito y una sección de enfriamiento. La línea GD150 utiliza moldes de una hilera y puede producir entre 100 y 150 kg de caramelos por hora, dependiendo del peso de las piezas. La forma del caramelo se puede personalizar para satisfacer las necesidades del cliente y hay varios diseños disponibles. Los dulces se pueden hacer en colores simples o dobles, con patrones de izquierda a derecha o de arriba a abajo. En las fotos siguientes se proporcionan ejemplos del producto final.
Esta línea de procesamiento es un equipo continuo avanzado, aplicable para la producción de varios tipos de caramelos de gelatina. La máquina tiene una estructura compacta, un rendimiento estable y un control conveniente. Es un equipo ideal que no sólo ahorra mano de obra y espacio, sino que también produce productos de alta calidad.
Productos Destacados
New Arrival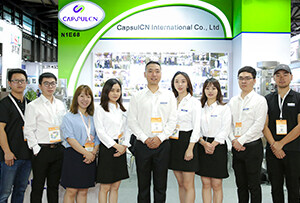 Our Team
As an expert in the pharmaceutical and pharmaceutical packaging industry, iPharMachine has provided solutions for hundreds of pharmaceutical and health product manufacturers for 17 years. By visiting customers, we get good reviews from our customers.