Introducción
El modelo YF150 es un molino de alta velocidad para producir polvos super finos. Esta fabricado en acero inoxidable. Este equipo se puede utilizar en el campo de los productos farmacéuticos, químicos, alimentos y otros. Las ventajas de la misma Genera muy poco polvo lo cual da como ventaja la alta utilización de la materia prima reduciendo de esta manera los costos. Sabor original y el color del material se garantizarán en el proceso.
La durabilidad y la calidad del equipo es alta. La hoja del molino es la única parte del equipo que se desgasta, sin embargo, el precio de la misma es económico y muy fácil de cambiar.
.
Especificaciones
| | | | |
| --- | --- | --- | --- |
| Modelo | YF3-1 | YF-150 | YF-200 |
| Producción | Continuous | 500g | 1000g |
| Capacidad | 5-15kg | 6-10kg | 10-20kg |
| Voltaje | 220V 50HZ/110V 60HZ | 220V 50HZ/110V 60HZ | 220V 50HZ/110V 60HZ |
| Potencia | 1500W | 1600W | 2000W |
| Velocidad rotacional | 2600r/min | 2600r/min | 2800r/min |
| Corriente eléctrica | 5A  | 5A  | 5A  |
| Finura | 30-200Mesh | 60-300Mesh | 60-300Mesh |
| Peso(kg) | 25kg | 9kg | 11.5kg |
| Dimensiones(mm) | 550*170*530 | 190*240*350 | 190*240*350 |
Observaciones
Para mantener al usuario seguro, la energía debe estar conectada a tierra.
El objeto de procesamiento debe estar seco y sin aceite.
Adopta acero inoxidable para la ranura de molido, lo que cumplen con los requisitos de TCM y GMP.
Normalmente, el tiempo de molienda de la hierba es de 30 segundos, las materias duras (antes de moler deben cortarse en pedazos) necesitan 1-2 minutos.
El tiempo de trabajo no debe ser más de 8 minutos cada vez, para mantener la máquina con una larga vida útil.
No encienda cuando la tapa está abierta.
El cepillo y las cuchillas de carbono se deben reemplazar después de un uso prolongado.
Antes de usar, verifique que el tornillo de cuchilla si esta apretado y la cuchilla girando si es correcto. 
revisión (s)
The grinding speed is very fast and very small, very good
From: sevide | Fecha: 01/03/2021 1:40
Fue este repaso útil?
(

0

/

0

)
Escriba su propia opinión
También Ofrece
Save $1,000
Productos relacionados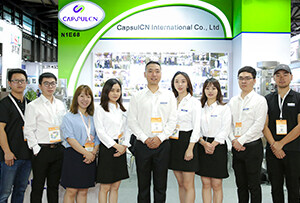 Our Team
As an expert in the pharmaceutical and pharmaceutical packaging industry, iPharMachine has provided solutions for hundreds of pharmaceutical and health product manufacturers for 17 years. By visiting customers, we get good reviews from our customers.
Productos vistos recientemente